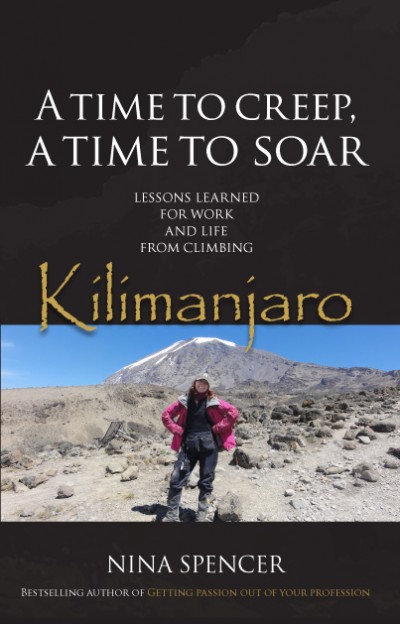 This book will help you (re)discover and (re)claim your confidence, courage and fortitude to shoot for your goals and dreams!
We're all climbing a mountain of one sort or another. These treks require us to muster more strength than we think we have, more endurance than we think we can sustain and more awareness than we think possible.
A Time to Creep, A Time to Soar is filled with pertinent insights and basic truths for developing that strength, endurance and awareness required to turn your workplace and private life goals and dreams into realities and
results.
This volume delivers motivational, inspirational messages that are relevant and topical, with a great sense of humor, and in a way that engages the reader from start to finish.
In this remarkably readable and useful volume of wit and wisdom, Nina Spencer shares 42 lessons learned for work and life from climbing Mt. Kilimanjaro—the world's tallest freestanding mountain. Go ahead, purchase your copies today and dare to soar!
To order 50 or more copies of: A Time to Creep, A Time to Soar: Lessons learned for work and life from climbing Kilimanjaro, Call Nina Spencer: 416.588.3334 to arrange payment and shipping.
Bulk discount rates are available for your group, company, organization or professional association, for sales or event promotions, premiums, fundraising or professional/management development workshop presentations: Please call Nina directly at 416-588-3334.