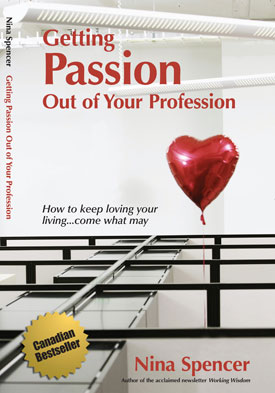 This book will help you rediscover and reclaim your passion for your profession!
Getting Passion Out of Your Profession delivers a motivational, inspirational and content-rich message that's relevant and topical, with a great sense of humor, and in a way that gets the reader's involvement and participation. Count on it, Nina Spencer delivers the goods!
In this remarkably readable and useful volume of wit and wisdom, Nina Spencer shares the 8 passion points for reclaiming that zest for work and empowering you to grab your professional life by the ankles and give it a fling!
To order 50 or more copies of: Getting Passion Out of Your Profession, Call Nina Spencer: 416.588.3334 to arrange payment and shipping.
Bulk discount rates are available for your group, company, organization or professional association, for sales or event promotions, premiums, fundraising or professional/management development workshop presentations: Please call Nina directly at 416-588-3334.