Dear Working Wisdom Reader…
Some of my previous conference clients have just, this very Covid-19-scary week, rediscovered one of my archived Working Wisdom articles from a few years ago. They've kindly shared that they found my insights and messages (from back then) are oh-so-appropriate to contemplate and apply in our current unsettled times. From this feedback it occurs to me that you and yours too (both personally and professionally) may receive some comfort and value from this vintage edition. And so, with an aim to helping in any small way that I can, to help keep sprits lifted and emotions fortified, I resubmit this apparently timeless piece to you, alongside my sincerest hopes that you all stay strong and healthy. Until we meet face-to-face once again, at another association conference or celebratory internal staff event, here is my re-issued offering…
---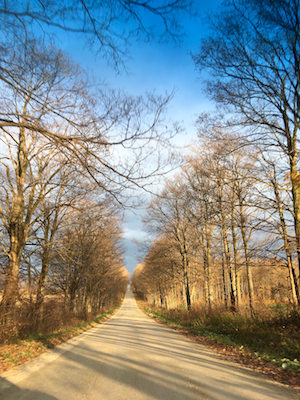 Two roads diverged in a wood, and I took the one less traveled by, and that has made all the difference.
— Robert Frost
Sometimes you just have to slow down to make space for grace. I travelled five hours by car to a speaking engagement in the Ottawa Valley last spring because my client's location was too arduous to reach by air. That's a nice chunk of time to contemplate life! Now that it's (almost) spring again…here's what I observed, learned and realized last spring, that I offer for you to apply to your life experience, too, this spring and beyond:
1. Make Space For Grace: People driving along North America's busiest highway—the 401/Ontario's Macdonald-Cartier Freeway—are more gracious, respectful, and well mannered once they get out of the urban fray. Once they're granted more literal and emotional space. With the frenetically paced congestion of the GTA behind me I was amazed to see how well we all abided by the written and unwritten rules of the road. People kept the passing lane for passing, willingly moved aside for those who wanted to speed, left a decent distance between vehicles, and shifted to the left to give disabled vehicles an extra-wide berth. Isn't this just like life? When we're jam-packed in our physical and/or emotional environments we're more likely to aggress and snipe, and play it thoughtlessly and unsafely. And that's not in anyone's best interest. Protecting your personal space helps cultivate deep peace and serenity, and goes a long way to keeping a personal commitment to being kind, decent, and respectful to others every day.
2. Go Slower to Succeed: On my way out, I had "all the time in the world" (as my mother used to say). So I took it. I travelled the speed limit, chose the "slow" lane and received this enlightenment: oftentimes the "slow" lane moves fastest! Yup, those cars that zipped by me at breakneck-speed often ended up immediately in front of me further down the road. Isn't that just like life? I have a friend who always says, "I've been running around today!" She doesn't realize how much her chosen words inform her daily-harried nature. Did you know there's a Slow Movement gaining speed (pardon the pun) around the world? The Slow Movement is a cultural shift towards slowing down life's pace. The Slow Movement proposes consciously seizing control of time (rather than being dictated by it), and finding a balance between using time-saving technology and taking the time to enjoy a peaceful walk or a grace-full meal with others, etc. Proponents believe that while technology can be useful in some ways to speed things along, the most important things in life should not be rushed. Ultimately, if you slow down—even a little, and even if just for a little while—you may end up with more control over your own "vehicle"… your own day-to-day life experience. Slow and steady still can win the race, as Aesop's Tortoise and the Hare taught us so long ago.
We don't see things as they are; we see them as we are. — Anais Nin
For everything there is a season, and a time for every matter under heaven… — Ecclesiastes 3:1-22
3. Once in a While Be Last, On Purpose: For years I've been one of those drivers who, while on rural single-laned roads, wants to be the leader of the pack, with an unimpeded view beyond my windshield. On this trip, however, once I headed northbound into that breathtaking geographical feature known as the Canadian Shield (full of stunning rock-blasted sections, evergreen and hardwood forests, glistening lakes, wetlands and panoramic vistas), I decided I wanted to be last on purpose, without anyone invading my space and impatiently riding my back bumper. Once again those behind me pulled out and passed; and swore I could hear them all say, as they zoomed by, "So long grandma!" Before I knew it, I got the same wish that I long for when I desire to be the head car… I was alone on the wide-open road without any upfront visual interference. And then my patience was rewarded. Without the worry of someone pressing me to move along faster, I took the time to glance to the left and right—to actually see the beauty of my surroundings… including the reward of spotting two deer, a beaver, a Blue Heron, an eagle (yes, truly, an eagle!), and even a moose, all on the same journey! Can you believe my good fortune??? Was I hallucinating??? I was sincerely gobsmacked! Now that's a chance-of-a-lifetime beautiful site for a city slicker. I surely would not have noticed all of this glory presented only yards from my car's windshield had I been focusing on the guy behind me, or the one I was trying to pass.
If you always do what you've always done, you'll always get what you've always got. — Ray Kroc
4. Take the Rough with the Paved: Endless miles of smooth straight roads are great for gas mileage, making good time, minimizing stress, etc. On the other hand, rough patches, potholes, washboard surfaces and dusty, stony detours (whether on rural roads, or metaphorically, elsewhere in your life), can muck up your gleaming exterior, challenge your suspension, and rattle your constitution. No one really wants to experience rough patches and tough times, yet come they do. So what's to be done? What's to be thought when these times present? Along with doing what you can to keep the faith, how about remembering that, "All sunshine makes a desert." That's the way it is with the weather and that's the way it is with life, too. If life were always "great"—never any challenges, problems, or critical crises—how would you recognize or appreciate the good days and stretches? It helps to remember this also: Out of order comes chaos; and out of chaos, order will surely come again. And so it goes. Each stretch of the "road" passes sooner or later. Your job is to keep on metaphorically driving forward, with your [sanitized] hands firmly attached to the wheel.
Spring 2020 Epilogue: Actively commit to doing what you can to protect your emotional heart and mental health, as well as your physical self—alongside caring for the well-being of beloved others in your personal and professional circles, too. These are ailing days in front of us now and for the next several weeks. We all know that. And there's no getting around it. Like the Going on a Bear Hunt children's story reminds, "Can't go under it. Can't go over it. Gotta go through it." But remember now to look further down the road too, knowing that there is light at the end of the tunnel. And, although some may think it a platitude, lean on the knowledge that "this too shall pass." Because it will.
Arrange whatever pieces come your way. — Virginia Wolfe
And once all this is behind us, may all your actual road travels and adventures, whether local or afar, provide you with symbolic gobsmacking lessons that you can apply to your life forevermore. Actively look for and wait upon those lessons, and they will surely appear. Actually, you can do that right now. You don't even have to wait for the "all clear." And may your applied wisdom from those experiences, as Robert Frost suggests, "make all the difference," all the rest of your days.
And, lastly, because it's still March… and because we all seemed to, understandably, miss that light-heartedness of pretending on March 17th that we were all Irish (on St. Patrick's Day), I'll leave you with this classic Irish Blessing:
May the road rise to meet you.
May the wind be always at your back.
May the sunshine warm upon your face;
the rains fall soft upon your fields and,
until we meet again,
may God hold you in the palm of His hand.
Respectfully and thoughtfully reissued to you this day.
Nina

Keynote Speaker, TV Host, Speaker Coach, Voiceover Professional, and Bestselling Author of, Getting Passion Out of Your Profession,
and NEWEST BOOK and KEYNOTE, A Time to Creep, A Time To Soar: Lessons Learned for Work and Life from Climbing Mt. Kilimanjaro
Listen to Nina's interviews on Zoomer Radio AM 740, FM 96.7 and NEWSTALK 1010/CFRB by clicking on the links on the home page of https://www.ninaspencer.com
Watch Nina's Guest Appearance on TVO's The Agenda: click second video down on home page at: www.ninaspencer.com