Marsha Sinetar's, Do what you love, the money will follow, is a great name for a book and a great professional philosophy to embrace, as well. Too bad I didn't appreciate that premise sooner in my own life–but better late than never. Because of my advocacy for this latter day personal perspective, as a mother, I've strongly championed my children to move towards that which really interests them, to the exclusion of that which was merely practical to know. Hence, my step-son is completing a degree in Fine Arts with a specialty in bronze sculpting, while my daughter completed her Honours Bachelor of Arts Degree in 2008, majoring in Classical Civilization, with a minor in Canadian History (with special emphasis on WW I and II).
Can you just imagine how many times through her four year tenure that my daughter was asked, "What are you going to do with that degree???". "How will you ever get a job using that wisdom???". Kathryn confessed that sometimes she was confident and strong in her resolve and responses to such challenges and questions, and sometime not. Sometimes these judgments (that masqueraded as questions) would get under her skin and whittle away her confidence. Sometimes she fretted that she'd chosen the wrong path for her future and perhaps should have studied political science or business instead–anything that was deemed more practical. There were times she even shed a quiet tear over it all. I promised her it would all work out (and I secretly prayed it would!).
And so Kathryn graduated with said degree in mid 2008…just in front of the biggest recession in recent memory. Much to her father's chagrin, Kathryn chose to accept a fulltime position in November, 2008, at her place of part-time employment throughout her four years at school (at an independent bookshop). A mild and ongoing parental discord ensued, as I supported our daughter's choice to "hang out" and "hang in" at the bookstore through the worst part of this recession, all the while keeping an eye out for the job of her dreams (or at least one she could get fired up about while progressing towards that dream job). Her father subscribed to the alternate philosophy that any first job has merit and value–whether or not it's the "job of your dreams"–and that any first "real" job would see Kathryn on her way to whatever professionally happened next. Although I philosophically appreciated this perspective, too, something about it "stuck in my craw".
Oh the philosophical parental advice disagreements we had over the next several months! In my opinion, the trouble with the, "Take the first 'good' job that comes along and see what happens" perspective is this: you take the first job that pays half decently, offers benefits and some semblance of security–even if you don't like it–and you promise yourself it's only for a year or two and then you'll move on. Right? Next thing you know it's 17 years later and you're still there, with that supposed "first" employer, with the golden handcuffs tightly wrapped around both wrists, wondering, "However did I let myself lean my career ladder upon the wrong wall all these years? And, now that I'm middle-aged, do I have the time, courage, daring–and, let's face it, the funds–to make it right?"
And so I continued to tell my girl, "Stick to your guns, sweetheart. Focus on what you'd love to do and the opportunities will follow. Believe in it. Meditate on it. Look for it." She did and, as of September 30, 2008, I'm delighted to share, my darling, bright and persevering 23 year old daughter starts her dream job (which makes fine use of her Minor studies and fires her up marvelously, too)! Her new opportunity–her first real post-school position–is a job she'd dreamed about for the past four years…with this very employer; this very position! And it only took one year and three months post-graduation to manifest into reality!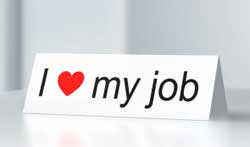 Now Kathryn's on the eve of the premiere step of her life long career path way, and I'm left feeling the mixed blessing of watching my girl "launch" (as opposed to "failure to launch") and also the anticipation that this is the first really BIG! step towards my experience of Empty Nest Syndrome. It's like watching your first-born take their first step all those years ago and fully comprehending just exactly what that means…that they're moving away from you now and things will never be the same…but maybe better! But I digress, for the real moral of this story I care to share with you is this: Wherever you can/wherever you have the luxury and courage to do so, stick to your guns and hold out for the very best…the best fit for you. Whether it's a choice pertaining to a personal relationship and life long partner, or life long job, don't be too scared of the pressures of the world around you, of the unknown; don't be too influenced by the arm twisting of an authority figure who wants to lead you in their direction, at the expense and sacrifice of your own vision for your life and heart's desire. Always hold out for the very best. Do what you love/choose what you love, and your best good fortune and happiness–professionally or otherwise–will surely follow. Faith, trust, intuition, courage and perseverance are terrific cohorts. A little serendipitous good luck and good timing help, too. Just remember this:
Every moment of one's existence, one is growing into more or retreating into less. One is always living a little more or dying a little bit.
— Norman Mailer
Never give up, for that is just the place and time that the tide will turn.
— Harriet Beecher Stowe
It concerns us to know the purpose we seek in life, for then, like archers aiming at a definite mark, we shall be more likely to attain what we want.
— Aristotle