Today, January 26th, marks the 11th anniversary of my Summit Day of Mt. Kilimanjaro—the world's tallest freestanding mountain! (January 29th marks the day I completed the climb). My subsequent workplace-focused book—A Time to Creep, A Time to Soar: Lessons learned for work and life from Climbing Kilimanjaro—became (and still is, especially through these pandemic times!) one of my most in-demand conference keynotes for companies, government organizations, and professional associations.
My "Kili Keynote" focuses on messages of personal and professional resilience, perseverance through tough times, goal setting, positivity against the odds, conflict resolution, overcoming fears and negative self-talk, finding humour despite it all, accessing personal motivation and inspiration in difficult situations, and more.
I invite you to click on this 30-second summit moment video, to put a smile on your face, and perhaps give yourself a little "lift," too (no pun intended!)—to remind you of your own mountains that you have successfully summited these past two pandemic-challenging years!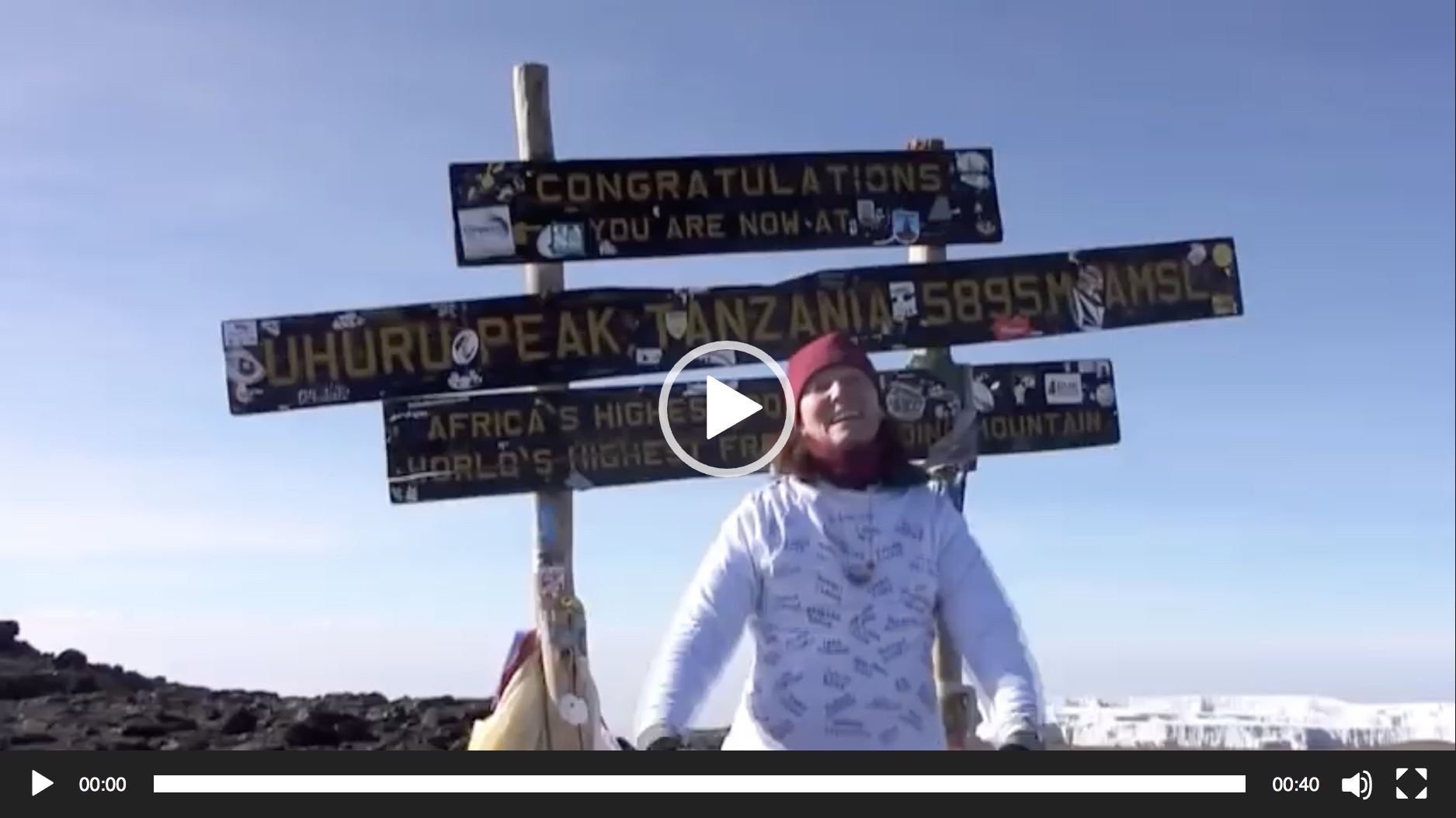 On the home page of my website at: https://www.ninaspencer.com includes this same summit day video, alongside a variety of subsequent TV and radio interviews (e.g., for TVO's The Agenda, CBC Radio, NEWSTALK 1010/CFRB, Global TV, Zoomer Radio AM 740, etc.) on my experience of training for, and then climbing, to the rooftop of Africa—one of the world's famed Seven Summits.
These media interviews serve as perfect teasers for my "Kili Keynote" messages aimed at boosting and bolstering staff or association members' morale, while also offering practical and even profound personal and professional leadership insights and lessons. I share plenty of exciting, funny, and sometimes even scary, vignettes and examples in this visually rich, virtual or live keynote presentation, regarding how my tales from the mountain can relate to your own personal and professional life trials, tribulations and elations.
I hope you enjoy, and feel inspired by, your virtual trip standing on the top of Africa with me (again) this day! ;)
Warmly, and with hopes that viewing my summit day video reminds YOU to lift YOU up where you belong this day, and every day!
---

Keynote Speaker, TV Host, Speaker Coach, Voiceover Professional, and Bestselling Author of, Getting Passion Out of Your Profession, and NEWEST BOOK, A Time to Creep, A Time To Soar: Lessons Learned for Work and Life from Climbing Mt. Kilimanjaro
Listen to Nina's interviews on Zoomer Radio AM 740, FM 96.7 and NEWSTALK 1010/CFRB by clicking on the links on the home page of https://ninaspencer.com
Watch Nina's Guest Appearance on TVO's The Agenda: click second video down on home page at: www.ninaspencer.com