A Rose is a Rose is A Rose? The Difference Between "Secretary" and "Office Professional" and Why these Anchors Need Continuous Professional Development
"The successful candidate must: maintain a positive attitude, work with people at all levels, use time effectively, take action on management priorities, take initiative, recruit, select and train staff, be dedicated to service excellence, problem solve, multi-task, be proactive, demonstrate superior leadership skills . . .", doesn't this breathless "job description" sound like a management position?
Surprise! These are just a few of the descriptors required by today's administrative professionals–a.k.a. "secretaries". Some of the "old guard" still hold on to the traditional "secretary" title for these multi-tasking, multi-functional, essential contributors to the smooth running of an our organizations. Some of the "old guard" think all this name changing is nothing more than politically correct babble…"a secretary by any other name is still a secretary!" Whether they are called administrative or office professionals, executive assistants or administrative assistants, these people are important links supporting the successful operations of our organizations. We need to pay more attention to their on-going training and development needs.
Many organizations clearly see the importance of ongoing professional development for their management staff, and make sure to budget accordingly, but do not recognize the same for their administrative professionals. They assume that their administrative professionals can adapt on-the-fly to their new and evolving responsibilities; getting on with it as they go. From time to time, when some organizations do create in-house, dedicated opportunities for administrative professionals' development, they are often haphazardly put together, with scant, "left-over" training budget dollars. As well, too many administrative assistants are their own worst professional development enemies, because they do not feel comfortable asking or pushing for in-house workshops customized to their skills development needs.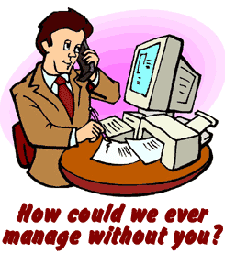 The most enlightened managers see what administrative professionals "need" before the admins see it themselves. Administrative Professionals Week (and all through the balance of the spring season) is an excellent time to ask, "Is this the year? Is this the spring our organization will take the initiative to strengthen company health and growth in all areas, by investing a "fair share" of our budgeted training dollars on administrative professionals, as well as the usual amounts allotted for all of management development? How would putting more conscious effort, focus and budget dollars aside, to specifically and formally develop our administrative assistants, support staff and help our overall operations prosper?"
Now is the time to step up and champion the on-going professional development of your organization's support staff; a couple of suggestions for moving forward include:
1. partnering with a guest facilitator or speaker to deliver in-house full or half day workshops, or lunch and learn sessions, customized for your assistants and administrative staff
2. knowing "who's out there" who can specifically help move administrative professionals' communications and leadership skills development forward
Arranging occasional internal company lunch and learn sessions and/or workshops, brings like minded office professionals together for a most cost efficient and truly synergistic information exchange and experience, that will benefit the entire organization. If you are affiliated with a provincial or national level professional association, inspire your association event planner to include dedicated workshops and concurrent sessions, specifically focused on Executive Assistants' professional development needs, at regional and annual conferences.
"Secretary" may be a dying profession but the "administrative professional" and "executive assistant" is alive and kicking and growing. As long as companies need organizers, co-ordinators and trouble shooters…they'll need their office professionals. To keep themselves, and you, effective in the workplace…it is essential to encourage and support administrative professionals' continuous development.
Now is the time for all good leaders/managers to come to the aid of the assistant!
Champion the reward of formal professional development opportunities for all office support staff, especially during the months of April, May and June.
In addition to addressing a diverse number of senior management client groups, Nina Spencer is popular with, and a recurring speaker at, many Administrative Professionals' Conferences. Nina has delivered keynote presentations at chapter, national and international events for the International Association of Administrative Professional (IAAP), as well internal administrative professionals' events for, eg. ScotiaMcLeod, Rogers AT&T Wireless, Canada Post, Torstar Corporation, The Association of Municipal Managers, Clerks and Treasurers of Ontario, and The Ontario Hospital Association.
For your organization's "good people who help hold the fort down", book Nina Spencer to deliver in-house lunch and learn sessions, and/or half or full day workshops, on topics of particular relevance to your administrative professionals.